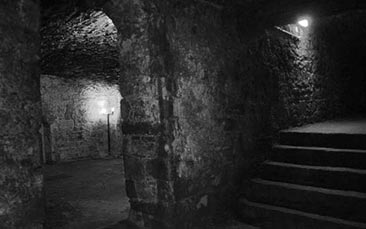 Edinburgh is renowned for being one of the world's most haunted cities with tales of Burk and Hare, ghostly soldiers and the famed White Lady. If you're fans of shows such as Most Haunted and Scream Team you'll love our ghostbusting Edinburgh Haunted Hen Nights. They really are frighteningly good fun!
We have access to the Edinburgh Vaults where you'll be joined by a team of paranormal investigators as you search for signs of unusual activity. These spooky vaults were visited by ex-Eastender's actor Joe Swash in Joe Swash Believes in Ghosts, during the show Joe didn't hear any sounds but after recording, playback revealed his microphone had picked up 20 minutes of unexplained voices including children yelling.
The vaults are a series of chambers that were built in 1788 as part of the South Bridge to be used as storage for local tradesmen. Over time the conditions inside the vaults deteriorated and the business moved away and poor people moved in, living without water, sewers and in complete darkness. The vaults soon became lawless slums rife with crimes; robbery and murder were commonplace and the vaults are also known to have been used by the infamous body snatchers Burke and Hare.
The site is famed within global ghost hunting circles as being one of the most haunted sites in the world owing to the intensity of paranormal activity. Visitors have reported being grabbed, feeling watched hearing "shuffling footsteps", hearing children's' voices, as well as a ghostly shape known as "The Watcher".
Our Edinburgh haunted hen night really is a journey into the unknown, accompanied by our experts you'll have all the equipment you need to record any unusual or spooky activity, the question remains will you be brave enough to last through the night?!?