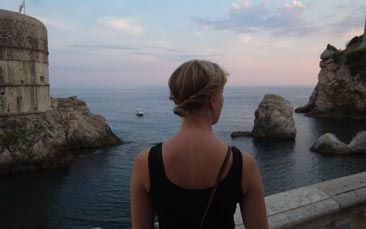 Ok if you don't love Game of Thrones you can't come on the hen party. It really is a show like no other with so many devotees. If the bride-to-be is a fan of the show then she'll love getting up close and personal with the real Westeros on a tour that does make her hen weekend totally unique to her.
The tour is lead by one of the extras from the show, with great stories and props. As well as insider knowledge you'll get to treat your Instagram feeds to some great photos of you in the locations and also stunning views over the medieval city.
Locations you'll visit include:
King's Landing Docks - Where and Sansa considered eloping with Littlefinger, Sir Robert Baratheon's bastard was killed and where Myrcella was sent away.
The Red Keep - Used for Joffrey's Nameday Tournament, where Tyrion slapping Joffrey, the Hound saving Sansa and of course the Purple Wedding.
Gates of King's Landing - where hunky Jamie Lannister and other figures have entered the city, and where the people rebelled against Joffrey.
Littlefinger's Brothel - Well we all know what goes on here! With views of the House of Undying.
Sept Baelor - The seat of power that Cersei blew up. Uhnnmm what is she like?!?
The Spice King's Palace - Where many characters have sailed across the Narrow Sea and the place Daenerys once pleaded for ships.
Walk of Shame - Follow the footsteps where Cersei was forced to walk naked through the streets.
Duel Arena (Revelin Fortress) - The famous moment when the Mountain was beaten in combat.
Get an amazing perspective on the hit show and remember; "When you play the game of thrones, you win or you die." Cersei Lannister.