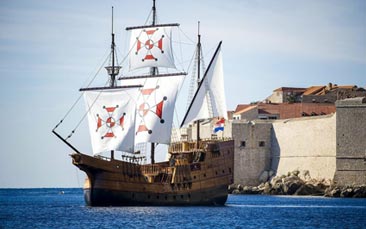 If the bride-to-be is a fan of the show then she'll absolutely love this cruise and tour which will be an amazing highlight of the weekend with the real locations behind the hit show.
Your adventure will begin aboard the actual ship Daenerys Targaryen sailed on so you can feel like the mothers of dragons. You'll even get a dragons blood cocktail to drink during the cruise as you sail out into the real Blackwater Bay with fantastic views of Kings Landing (Old Town Dubrovnik). The cruise will end back on dry land.
But this isn't just any dry land, this is Kings Landing itself, the centre of the Seven Kingdoms, a guide will lead you on the tour of many of the show's most iconic locations. See the city gates, maybe walk in Cersei's footsteps on her walk of shame. This is the real Westeros, minus the dragons, white walkers and impending doom of course (and sadly no Jon Snow either, sigh!).
You'll be able to get plenty of photos and selfies in the locations but perhaps the most exciting of all is the Iron Throne (replica) where the bride can get a picture taken with all her shield maidens. This could turn out to be the classic photos that will serve as the perfect reminder of your special weekend.
Your guide will be able to tell you interesting facts about the filming as well as the history of Westeros' noble families. Well, at least the hens will know who to wed if they want to marry their way to power. Alternatively, why not get some dragons, raise an army and simply take power for yourselves? Whatever you decide its still a fantastic day out (and any bloodshed caused by bringing your own dragons is done entirely at your own risk).