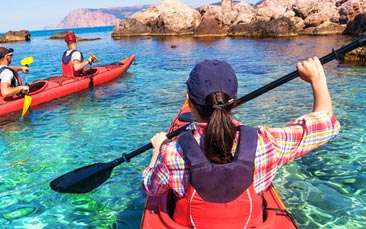 Well, you could stay in the UK, eat homemade cakes and talk about wedding table decorations… Or you could go on an adventure!
If you're the type of hens that want to do new things, explore new places and squeeze the most fun into your weekend then this is ideal. The adventure starts at Blackwater Bay which fans of Game of Thrones will instantly recognise from so many major scenes. You'll be met by a friendly instructor who will be guiding you throughout your adventure.
First up, kayaking. You'll be given aqua shoes and life vests (and you're gonna make them look goooood), which is the perfect time to get all the girls together for a group selfie. You'll be shown the kayaks and learn the basics. Then it's time to get your bottoms wet. Well, the bottom of your kayaks, hopefully, your posteriors will be staying nice and dry. You'll head along the stunning coastline so make sure you've applied plenty of sun cream as the sun reflecting off the water can be even stronger.
Next up is cliff jumping. You'll head to some cliffs offering magnificent views. This really is one for thrill-seekers and a life-affirming, adrenaline-pumping challenge to leap from the heights into the crystal-clear water below.
Having made the grand leap you'll find hidden caves where you'll be able to go snorkelling and explore these natural caverns that very few tourists get to see.
Then it's back into your kayaks as you paddle for home. Drybags are provided to keep your wallets, clothes, cameras dry, but there is limited space on each kayak.
This is a fantastic adventure with plenty of opportunity for taking incredible photos as well as making incredible memories.