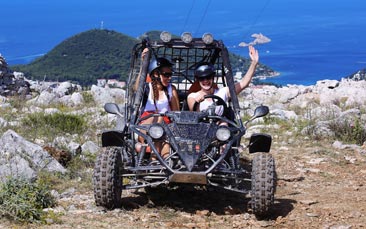 Get your motors running and head out on the highway with our fantastic Dubrovnik hen party buggy safari. Heading out into the wilderness surrounding the historic city, you'll be behind the wheel of some of the funkiest vehicles around.

The open air buggies mean you'll feel the sun on your faces as you head off road. These little mean machines really are brilliant fun to drive and everyone will get a chance behind the wheels of the two seater buggies.

The session begins with a safety briefing and explanation of the buggies' controls before you're handed helmets and goggles. Once everyone is kitted up you'll hit the road. Split into teams of two, you and your buggy buddy will soon be zipping along the open road and heading off the beaten track. While one of you has fun behind the wheel, your partner can check out the simply stunning countryside around Dubrovnik. You'll also have a bottle of water to ensure you're staying hydrated in the glorious sunshine.

The Dubrovnik hen party buggy safaris have experienced English speaking guides who'll also be able to give you great tips on the best bars and restaurants in town. Safaris last an hour and a half, during which time you'll be feeling windswept and fabulous as you discover roads and sites that most visitors to Dubrovnik never get to see.