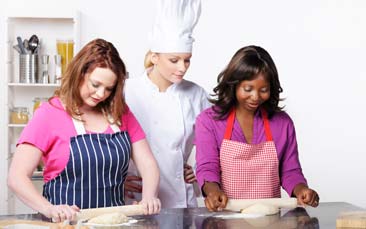 Ready, steady, cook! Get ready for hen party cooking class fun. Perfect for a bride-to-be who loves Masterchef, this cooking class activity is a real group pleasing activity. You'll take to a professional kitchen to make your own gorgeous dishes that'll even have Gregg Wallace gushing about your cooking skills!

On arrival at our London location, you'll meet your amazing professional chef who'll take you on a foodie adventure that you'll never forget. The chef will display their gourmet mastery in a demonstration where they'll show you and the girls how to make some delicious kitchen delights, using a wide variety of cooking techniques.

Then you'll get to try some of the chef's work for yourselves in a lunchtime tasting that'll inspire the girls for their own cooking experience in the afternoon. This is food at its finest, and it's sure to more than whet your appetite to get hands-on with some ingredients yourselves.

And get hands on you will! Our experienced chef will guide you as you make some proper high-quality dishes. Even if you're the queen of the ready meal, soon enough you'll be a regular Nigella as you learn all the professional techniques behind these awesome courses.

After all the creations are out the oven and exquisitely presented, the hens will tuck into their master creations and quickly jot down a few recipes to take home and try out in their own kitchens!

Our hen party cooking class is sure to get all the girls giggling as they have an absolute ball making food they never thought they'd be able to. It's fantastic fun that's sure to make the bride-to-be happy before you head off for your evening's entertainment!