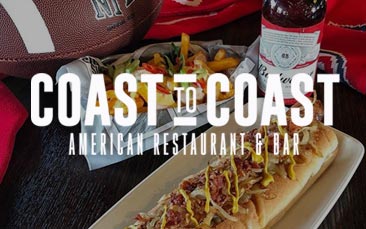 You have just 48hours to party, you don't want to waste precious time traipsing around the streets trying to find a restaurant that happens to have a free table that will seat 27 hens. All the hens' stomachs are grumbling, their mouths are grumbling, and you've already lost the bride's cousin (she's taken refuge in a kebab shop).
As hen organiser, you don't want to be the cause of their malnutrition.
But rather than worry about finding a restaurant, you can let GoHen do all the hard work for you.
We'll arrange for your table to be ready and waiting for Coast to Coast, a superb American style diner offering a great mix of classic American cuisine and British pub grub. There's also a very tasty cocktail menu. Just sayin'.
All the hens can pre-order their meals in advance plus the meal will be prepaid, so there's no awkwardness about having to split the bill.
Menu
Starters
Soup of the day
American skins - sour cream, cheese and chives
Buffalo bites
Mains
Fish & chips
Jumbo hotdog & chips
Sausage & mash
Mac & cheese
Margherita pizza
Desserts
Millionaires waffle
Chocolate brownie
The restaurant is also located close to plenty of bars and clubs so once you've had your fill you can head back to the party. This really is a great, hassle-free way to raise a glass to the nearly-wed and ensure everyone has something to eat. Even the fussiest hens. There are also vegetarian and vegan options. Please ask our team about any dietary requirements.
Please note; Drinks are not included.