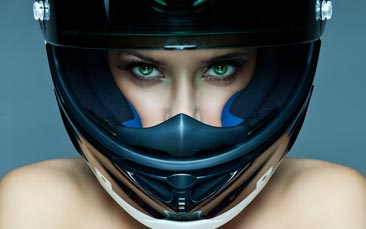 If you're high speed hens with a sense of adventure then our Cheltenham hen party go karting experience really will get you all revved up!
The 300-metre indoor circuit is specially designed to test your driving skills to the max while getting all the hens speeding faster than Lewis Hamilton goes through designer shirts. The excitement begins with a safety briefing from the experienced instructors, then you need to get your kit on for the girls, you'll each be issued with very fetching racing overalls and a helmet. You can see just enough to show your racing game faces "grrrr... GRRRR!" This is a great time to get all the hens together for a fun team photo.
You'll then see the track and get a look at the 160cc Honda Cheltenham hen party go karts. If you're a bit of a speed demon you'll love the look of these machines but the feeling is even better as they whizz around the track at roughly "Waaaarrrrgghhhh!!!" miles an hour.
The action begins with a few practice laps to get used to the handling and learn the fastest route around the track. Once everyone has got the hang of things it's time to get serious! You'll begin with a series of qualifying races to find the fastest few. Those hens will then go through to the Grand Final where it really is pedal to the metal time to see who will be crowned your Cheltenham hen party go karts Queen of Speed!
The session will end with a podium presentation and the fastest three racers will receive trophies. But it's probably best to let one of the other hens drive until the winners have well and truly got the speed out of their systems.