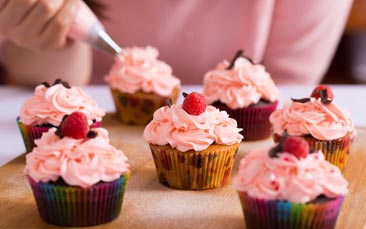 You've seen the show, you've sat on the sofa and passed your own judgement but now its your chance to put your own rigorous scrutiny.

Competitive hens will absolutely love going spatula to spatula against their culinary creative opponents in a no holds barred battle of the icing queens. You'll need to whip your fellow hens into shape and in order to cream the opposition. When it comes to showing off the best buns, our Hen Party Cake Off shows no mercy, but it's all done with fabulous taste!

You'll be split into teams with each hen responsible will have four 'naked' cupcakes to decorate and lavish with designer details, however, it's team competition so you'll need to plan a designer strategy to prevent being piped at the post.

The session will begin with a quick demo from our cake decorating expert as you enjoy complimentary tea and coffee and then the aprons go on as the oven gloves will be off as its hen vs hen in the battle of the Battenburg. You'll be using a rainbow of food colourings, sprinkles, sugar paste, piping bags, buttercream or put a cherry on top. The styling is all down to you and your team with a prize for the winners.

Who will emerge as the champion cupcake creators? Whose icing skills will outgun their opponents? This is a hilarious and informative afternoon. Plus all those cakes!!!