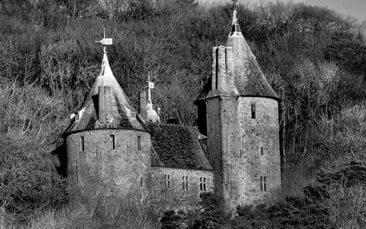 Visit one of the most haunted locations in all of Wales in an effort to unravel the mysteries behind the ghostly activity that's been reported in this beautiful and gothic site.
A lot of things can go bump in the night, but what if there actually was something there? It's this intriguing and chilling possibility which makes our Cardiff haunted hen nights so alluring.
With the help of experienced investigators, you'll take part in group séances and spooky experiments including table tipping and glass divination in an effort to unravel the mysteries behind this spine-tingling and spooky castle!
Castell Coch
Castell Coch is still an extremely raw prospect when it comes to paranormal investigation, as parts of the castle remain relatively unexplored at night. Although there's certainly been enough ghostly goings on to warrant this spectral search, with wailing cries emanating from the dungeon areas as well as bangs and taps heard in the Great Hall, where guests have reported feeling the cold touch of a wandering phantom.
Lord Bute had 'the red castle' built in the 1870's with the ambition of creating a romantic vision of the middle ages. However, he died before it could be completed, with a confused team of craftsmen left to interpret what they could of his vision. Could it be that the spirit of Lord Bute still roams the halls he never saw finished?
Castell Coch's history doesn't begin or end with Bute though, as its thought that the building is perched on the foundations of an original castle dating back to the 13th century. Who knows what horrors the foreboding castle grounds have seen throughout the years?
Are you ready for a Cardiff haunted hen party experience? Give us a call and book yours today, if you think you can handle it...