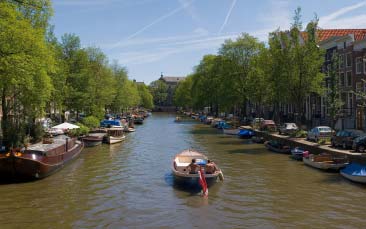 There are a few ways to see the striking sights that your city has to offer you on a hen weekend away. There are bus tours, bike tours and loads of walking tours. But if you want a new, unique, relaxed way of seeing the city from an entirely new perspective then our hen party canal boat tour is perfect.

The ultimate in relaxation, taking a canal boat trip with the girls is a wonderful way to bring everybody together and enjoy a little quality time, as well as enjoying catching up and gossiping for a couple of chilled out leisurely hours.

You'll set sail on some of Europe's most beautiful canals, whiling away an afternoon as you drift casually down beautiful waterways and simply watch the world go by! Our leisurely hen party canal trip is absolutely ideal for hen groups who are more interested in a glass of wine in the sun than Jaegerbombs and crowded clubs.

There's sure to be some gorgeous views from your boat no matter what city you decide to canal boat in, whether it's the antiquated roman stone architecture of Bath or the European flavoured canals of Amsterdam. You're sure to get some amazing photo opportunities as you gently float down the relaxed waters.

A great means of travel and thoroughly relaxing, this activity is a great way to spend the day whilst seeing a completely different side of your destination. All the girls are sure to have a great time, whether you're exploring the city by boat or journeying out to striking countryside.

It's sure to make the bride-to-be really happy to see all her closest friends together, enjoying the best views their location has to offer!