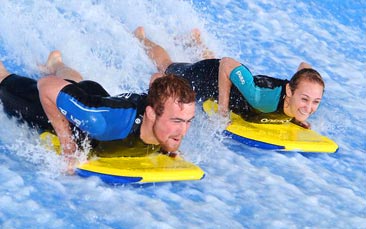 If you're looking for a little hen-spiration to find a new and exciting hen party idea then this most definitely fits the bills. How many of the hens will have tried surfing before? It's possible that not many hands will get raised. So why not introduce the girls to something a little wet and wild?

Ideal for adventurous hens and water babes our Cambridge hen party indoor surf school provides all the fun of surfing with none of the pitfalls:
No high winds or sudden gusts to knock you off
Guaranteed warm water - 25 degrees
No falling into freezing British seas
Nothing floating in the water
No need for nervous hens to keep hearing the theme music from Jaws
No sand in your bikini!
The session is set on a 'Flowrider' and the sport is actually termed "Flowboarding". Using an indoor wave machine especially designed for teaching surfing (or allowing complete novices to give it a go without having to head all the way to the seaside) the water is really shallow so any hens with a fear of the sea (or fish) will have nothing to worry about.
It is essentially a specially designed static wave where the pool is in the shape of a large curved wave. It is on a taught soft rubber skin so if you fall off you can be sure of a soft landing. Water is fired across the surface while you surf over the water pulling, tricks as you go. "Like totally radical man!"
You'll start on bodyboards with you can ride either kneeling or lying completely flat. Your first few attempts will be done in a horizontal position as you get to grips with the boards and how they cut across the surface of the water.
You'll then learn a few tricks and you'll soon be up "hanging ten" over the wave. Plus there's also plenty of time to watch each other as you make you first hilarious Bambi-on-ice steps into the world of surfing. And let's not forget the great hen selfies in your wetsuits.
Top Hen Tip - Surfing is a great workout and can be quite physical, so to top the day off with a spot of dinner in a pre-paid hen party Restaurant?