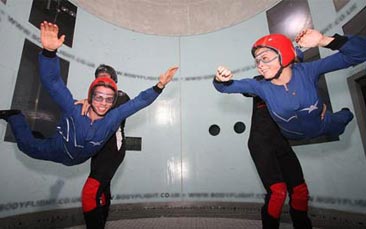 Skydiving is one of those incredible activities that features on so many hens' bucket lists, the only real downsides are being strapped to some hairy instructor, having to leap out of an aeroplane and the horrible thought of plummeting 40,000 ft to the ground at roughly "Arrrrrrrrrggghhhhhhhhh!" miles an hour.

But fear not, there is a safer alternative to enjoy this adrenaline pumping, thrill of a lifetime. Our Cambridge indoor skydiving hen party gives you all the excitement of a freefalling high dive with none of the risk of making a hen-shaped hole in the ground.

Dressed in (hugely flattering) jumpsuits and helmets, which are ideal for a hilarious hen party group selfie, you'll take it in turns to enter the tunnel in pairs, where the experienced team of instructors will be waiting for you. You'll then be shown how to ride the huge uplift to float in mid-air which is the equivalent of freefalling 40,00ft.

Tech stuff; the 4,000 brake horsepower engines create 180 mph hour winds that lift you up to 5 meters into the air, giving you the amazing sensation of freefalling. It's the equivalent of not one but three tandem skydives with not a terrifying plane ride or gaping door insight. Our Cambridge indoor hen party skydiving gives you all the fun with none of the fear factor to create a truly memorable hen party experience.

Is it a bird? Is it a plane? No, its Superhens!