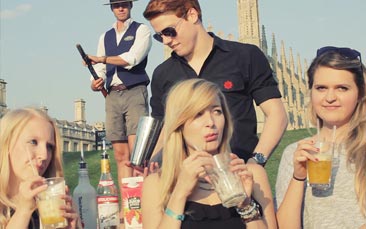 "...if you take my advice, there's nothing as nice, as messing about on the river." - Josh McCrae
As the old song says, messing about in boats is rather spiffing. It's as English as Wimbledon, strawberries and cream and standing in queues. It's quintessentially British and by George there really is no finer way to spend an afternoon than with bally good pals, enjoying a drop of Pimms and watching the world drift lazily by. What's more, it is sure to be the perfect tonic for the bride-to-be after the stresses of planning her big day.
Cambridge is renowned as an amazing hen destination, with its beauty and history ideal for a classy weekend. With its buzzing nightlife and stunning architecture, the city has a long-held tradition of being the backdrop for top nights out and fantastic easy-going days. In short, it's a hen party heaven. One of its most popular delights is the River Cam, running through the heart of Cambridge, and its tradition of punting stretches back over 100 years. It remains the perfect way to have fun and unwind with your closest pals.
The only thing that could improve a relaxing trip down the Cam is throwing a few cocktails into the mix! Well, your wish is our command so as you set out on the river you'll be accompanied by your very own mixologist ready to serve you with a few cheeky cocktails.
You'll have your own chauffeur plus a mixologist on board to mix two cocktails each. You'll drift along the famous and scenic College Backs while sipping ice-cold drinks. At the end of the trip, you'll head to a nearby location where your own reserved table and a sparkling wine reception awaits.
You will have a choice of two delicious cocktails as you drift along on the ultimate in relaxing afternoons. It's the perfect addition to your hen party in Cambridge.