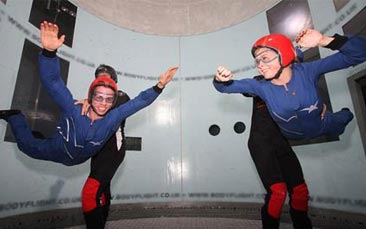 If you're looking for a truly memorable day of hen party fun and fancy ticking off something from your bucket list, then our hen party adrenaline day is packed full of hen-tastic challenges.

This package is perfect for adventure-loving hens with a daredevil streak.

Skydiving

Is it a bird? Is it a plane? No... It's a screaming hen experiencing the equivalent of a 40,000ft skydive. This dizzying activity involves entering a huge vertical wind-tunnel which pushes the air at an incredible 180mph. If you've ever wanted to skydive but don't fancy being strapped to a stranger or having to leap out of a plane then this is the answer. You'll have two flights which add up to the same as three tandem skydives from a Boeing 747 at over 40,000ft. You also get to wear very fetching jumpsuits, helmets and goggles.

Indoor Surfing

Calling all water babes, get ready for some "like, totally radical" Flowboarding. Combining elements of surfing, wakeboarding, skateboarding and snowboarding you'll receive expert instruction before taking to the specially designed indoor wave pool on bodyboards. The water shoots past the board, your challenge is simply to ride the waves and get to a standing position on the board. The water is kept at an inviting 25° and the soft rubber membrane means any falls are softly cushioned. That won't stop the rest of the hens laughing at your expense, but you can be sure you'll get to return the favour on their turn.

F1 Race Simulator

Are any of your fellow hens speed freaks? If so they're in for a treat as you race each other in state-of-the-art racing simulators that allow you to feel the movement of the car. Strapped into 3-point safety harnesses this really is an incredibly realistic experience that will bring out the competitive side of all the hens.

Climbing Wall

Expert climbing instructors will be on hand to literally show you the ropes as you reach for the heights on this superb indoor climbing wall. There are 20 different climbing routes to choose from and for climbing newbies, the belay safety equipment means you can climb with confidence knowing that if you do slip the belay will bring you safely back to ground. The challenge is to reach the top of the wall and hit the buzzer to signify your successful climb.