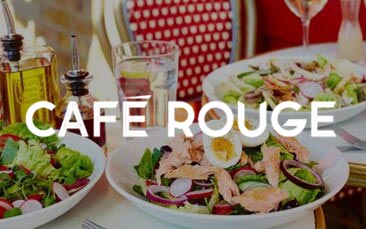 A great night out needs some top nosh and French dining always adds a little "Ooh lala". And with GoHen your meal comes with all the flavour but none of the hassle.
We'll arrange for your table to be waiting for you. On arrival, you'll be seated and can order your drinks and catch up on the day's events. Café Rouge has an outstanding reputation for quality and great service and your special party will be taken good care of. Each of the hens can tuck into her choice from the special hen party group many.
Best of all your meal is prepaid so you won't have any of the usual hassle that often comes when a large group tries to settle the bill ("But Jenny only had a breadstick and two bottles of wine..."). All you need is a little extra money for your drinks and 'Bob est ton oncle.'
So if you want a hassle-free dining experience then ask our team today to help get your evening started in style. Bon appetit. Other restaurants are available.
Typical Menu
Starters
French Onion Soup (v)
Champignons (v)
Pate
Mains
Demi Poulet
Fish & Chips
Tarte (v)
Desserts
Creme Brulee
Ice Cream
Lemon Tart
Please note; This is a seasonal menu and may be subject to change.
Whoa, whoa whoa, let's all put the forks down a minute, shall we? Have the hens really worked for their supper yet? And by that we mean have they squeezed every last laugh, chuckle, chortle and giggle out of the day? If not, then you just might be doing it wrong. GoHen are on hand to make sure the bride-to-be gets a weekend to remember. Dance Classes, Inflatable games, School Sports Day, Cocktail Mixing, we'll work with you to create a bespoke weekend for the girls, we'll take care of all the nitty-gritty and find you the best deals leaving you free to concentrate on the more important things. Like the cocktail menu. Contact us today and let the madness begin.