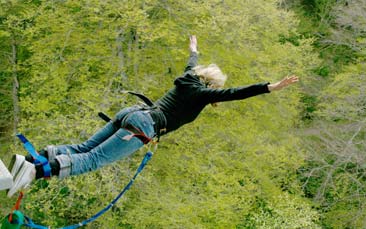 If you want to give the bride-to-be a truly memorable hen weekend then hen party bungee jumping is a leap into the unknown that she'll never forget.

A potential tick on the bucket list for all the hen party this is an incredible day out and something you'll be talking about for years to come. As extreme sports go, bungee jumping is teetering on the ledge of virtual insanity but is such an massive adrenaline rush that you'll be buzzing for days. Ideal for brides who love adventure or have a need to get into the great outdoors.

There will be plenty of fantastic photo opportunities or you can get ready and capture the full drop (complete with screams, shrieks and potential expletives) to create your own video compilation of the greatest hen party ever.

This a really unique pre-wedding journey that the bride can share with her closest friends and relatives, one small step for hens but a giant leap for hen-kind. And you will certainly have all earned a celebratory cocktail or two in the evening.

So get the girls together, prepare something truly memorable for the guest of honour and 3... 2... 1... Bungeeeeeeeeeeeeeeeeeeeeeeeeeeeeee!

Please note; Transport is not included but can be arranged, please speak to our team for further details.