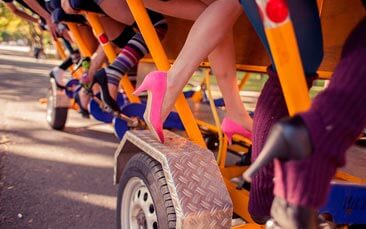 Budapest is a truly beautiful city and while you're here you should definitely make the effort to get out and about. While other tourists might settle for the tour bus or a walking tour, you ladies are hens, and so you deserve to travel in style!

Here at GoHen, we believe our Budapest hen party wine bike is the best way for any fun-loving bride-to-be to travel on her big weekend in the Hungarian capital. It's fun, it's unusual and it's positively loaded with wine.

This is perfect for the group of girls who're dying to see a little of Budapest but they're also keen to avoid wasting valuable time that could be spent polishing off a glass or two of their favourite tipple. It's a genuine dilemma, but when you're visiting this quirky, cool city, you simply don't need to worry about it.

Mixing the girl and the grape has always been a fabulous combination, so really it makes common sense to take a healthy amount of the good stuff with you on this amazing bike ride. You and the ladies will sit opposite one another and help pedal your portable pub through Budapest with a friendly and experienced driver who'll help keep you pointing in the right direction.

Each bike will hold up to 14 hens but pedalling the wine bike can be thirsty work. Luckily for you, you'll have 12 bottles of wine for you and the girls to get through! This is relaxed, chilled-out fun that all the ladies will love. The Budapest hen party wine bike provides an unforgettable trip and the best part is that it's environmentally friendly as it's powered by your wine-fuelled hens!