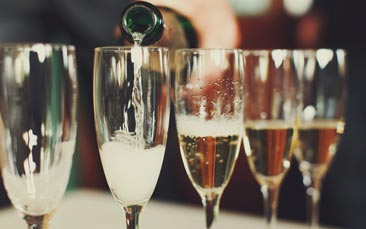 Brunch, it's the most important meal of the day, anyone who says it's breakfast should be sent back to bed for a couple of hours. Ok, yes, breakfast can be useful if you have to go to work or if it's being brought to you in bed. But it's the weekend, no one wants to be getting up at the dear-god-it-hurts o'clock, you deserve a more civilised start to the day.
And prosecco.
Yes, let's not forget this important detail. And it's not just any old prosecco, this is bottomless prosecco. That's the best kind! As you're dining the waiters will be coming to your table and they'll keep pouring. This really is a brilliant way to set the girls up for the day ahead and enjoy a blingy brunch to give the bride-to-be those hen memories she deserves.
And to balance yin and yang and offer something healthy (although prosecco is basically just grapes so can't be all bad...right?), you'll also be able to enjoy unlimited fruit, yoghurt and toast.
Fruit, yoghurt, fermented grapes, it's all the good stuff and even if you do have more than your fair share, calories don't count during a hen weekend [please note, this is based on absolutely no scientific fact, just a fervent hope in order to have that one extra cocktail].
Brunch Menu
Eggs Benedict or Florentine
Eggs Royal
Smashed Avocado on sourdough
Add smoked salmon or bacon
Vegan French toast coconut yoghurt, red fruits compote & maple syrup
Buttermilk Pancakes
Bacon, egg, maple syrup & banana, maple syrup & red fruits compote, maple syrup whipped cream
Greek yoghurt, granola seeds & mixed berries