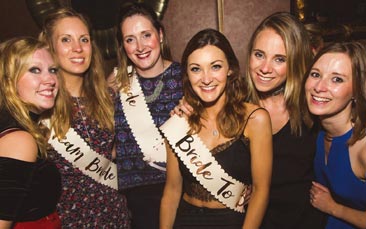 Brighton is one of the UK's coolest party cities, it has some absolutely amazing bars. But like any city, it also has some pretty bad ones. You don't want to lose time on your big night sorting the wheat from the chaff in a field of good times. You want the best party action and with GoHen that's exactly what you'll get.
We'll arrange guestlist entry for you all at what is, without doubt, one of the coolest venues on the South Coast. Once inside you'll be shown to your reserved area and to make sure you don't get dehydrated while checking out the latest cocktails, we'll arrange for your choice of drinks to be waiting for you in your own reserved area from 10 pm to 2 am.
The Copper Rooms are famous for their amazing cocktails, showcasing tastes and flavours with influences from master barmen around the world, from London to New York, Japan to Ibiza. The Copper Rooms mixologists are absolute wizards, they might even have superpowers, they can certainly get you flying.
As well as fantastic barmen, the venue also has a great DJ and top tunes that add to the vibrant party atmosphere that Brighton is so famous for. It's on nights like this, in such an amazing bar, that you can understand why celebs like Adele, Peter Andre, Cate Blanchett, Zoe Ball, Zoe Sugg, Alfie Deyes and Fatboy Slim have all chosen to make this party city their home.