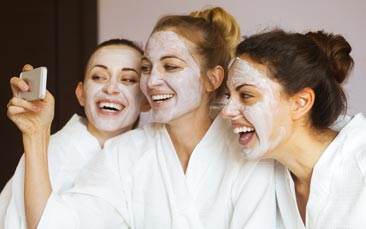 On your Brighton hen party spa day you'll give the nearly-wed exactly what she needs after weeks of sometimes stressful wedding planning. Make no mistake, organising your big day can be seriously tiresome, and one of the big bonuses of any hen weekend is the chance for the bride-to-be to step away from it all to spend some quality time with her favourite girls.

You and the ladies will boogie on down to one of Brighton's top 4* hotels to make the most of some simply stunning spa facilities. With a pre-arranged day pass, you'll be able to make the most of the exfoliating sauna and steam room as well as the luxury swimming pool and a gym equipped with high-quality machines.

A friendly, trained therapist will take you to your treatment rooms in turn and deliver a superb hand or foot treatment that's sure to help ease away any stress you might be feeling. There are plenty of upgrades available for your Brighton hen party spa day too, so if you've been craving a back massage for months then now's your chance to work out those niggling knots. Just ask our team for more details!

This 4* hotel's facilities include:
Fully equipped gym
Swimming pool
Sauna
Steam room
Jacuzzi whirlpool
Relaxation areas with tea & coffee making facilities
Treat yourself to a variety of treatments, including:
Hand manicures
Foot pedicures
Massages
Facials
Exfoliation.
Please speak to your account manager for more details!