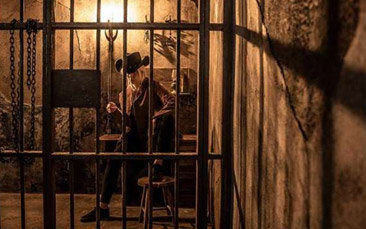 Could you and the girls get around the world in eighty days? Ok, that's probably asking a bit much of any hen weekend. Then how about becoming the stars of your own adventure game show challenge, a wonderfully entertaining Brighton Phileas Fogg Adventure? Take on up to thirty challenges which vary from puzzles to mazes as you stop off at sixteen fantastic locations (amazing themed rooms) guided by Phileas Fogg. You and the girls will have to work together to beat each task, but quick, you have just one hour!
Imagine sixteen escape rooms in one giant adventure, but with extra craziness and laughs!
Taking inspiration from the brilliant Jules Verne novel Around the World in Eighty Days, in which Phileas Fogg bets that he can circumnavigate the globe in eighty days or less, you and your fellow hens will help Phileas to win artefacts for him to complete his quest. You'll take on a variety of physical, mental and skilled challenges along the way. There are sixteen destination themed rooms and some great actors adding lots of laughs. From the grand canal in Venice, a temple and the wild West, you'll enter a variety of exotic locations brimming with excitement.
All that exhilaration and problem solving can be thirsty work though, so be sure to enjoy some refreshments in the fantastic tea room or reform bar before you carry on the party elsewhere. There's even an extra games room if you're still feeling competitive. This wonderfully unique hen idea will sprinkle something a little bit different into proceedings and is guaranteed to go down a treat with your fellow hens.

Located five minutes from Brighton station the venue is easily accessible (GoHen will help you with the first step of your adventure). After all the fun you'll have probably worked up a bit of an appetite. Contact our team today for a hassle-free quote and get your party started.