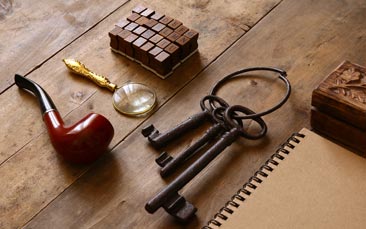 Are you fascinated by great thriller movies? Do you love those moments of suspense? Or maybe you're a keen detective and always manage to identify the killer before you get to the last page of the book? If so you'll absolutely love our Brighton hen party Escape Rooms.
The premise is fairly simple, you and the girls will enter a room, once inside the door will lock behind you. You have just 60 minutes to solve all the clues, puzzles, challenges and escape. If not...
We'll tell your loved ones you tried your best.
There are two chilling rooms to choose from...
MURDER AT THE PIER
A chilling reminder of the infamous Brighton trunk murders, the killer has been identified and you and the girls have raced round to catch them. Unfortunately, he's one step ahead of you and suddenly it's you who will feel caught. Trapped in his home you have just 60 minutes before he returns home to find you at his mercy!
LABORATORY OF A MADMAN
What is it with these mad scientists and they're schemes to take over the world? Ok, you're a brilliant megalomaniac with a penchant for taking over the world but really, take a chill pill!
In 60 minutes he'll literally be launching his latest scheme, a rocket carrying a payload which will irradiate the Earth's atmosphere unless you can stop him.
You're the planet's last hope of survival. And the clock is ticking...
Solve the riddles, complete the challenges, make your escape, save mankind. It's all in a day's work for our hens.