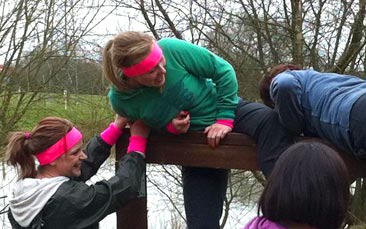 Beauty spas...!?! They're for sleepy hens! Nah, the tough girls are too busy looking for action to worry about drinking carrot juice and balancing cucumber slices on their eyelids. If you're a bunch of GI Janes looking for your next big adventure then you've found it with our Brighton hen party assault course!
While this might not suit all hen parties, those looking for some kick-ass adrenalin pumping action will be growling with determination and squealing with delight as they overcome each obstacle on this mammoth hen party adventure.
You'll head into the jungles (!?!) of the rolling Sussex countryside to channel your inner Lara Croft and test yourselves against a range of challenges and obstacles. As well as all the fun, exercise and craziness, our Brighton hen party assault course is brilliant for building self-esteem and confidence and is used a lot by team building companies to challenge their staff. While your charge up the course won't land you in the boardroom, it will give you plenty of fun and a huge adrenalin rush.
Obstacles that will be lying in wait for you include;
40ft scramble net
High wall
Burma bridge
Rope swing
Cargo nets
Balance beams
Water obstacles
Monkey bars
And more...
If you and the hens are really looking to push yourselves to the max on this once in a lifetime day of madness, you can mix the day to include other huge hen party adventures;
Ask our team for more details.
After such a huge day of action you're all bound to have built up healthy appetites so why not arrange a pre-paid restaurant reservation in any one of our choice of Hen Party Restaurants.