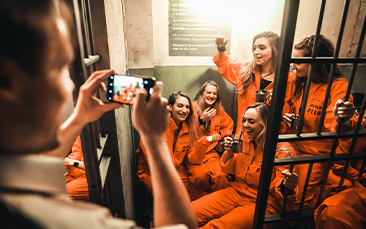 Alcatraz was infamous, a prison they said no one could escape from and home to inmates such as the gangster Al Capone, Machine Gun Kelly and Robert Stroud, the Birdman of Alcatraz. But who knew it would be such a laugh?!?
The whole evening is inspired by Hollywood movies and the big TV shows except with lots of added laughs. A crazy selection of characters will add to the fun, adding live, interactive performances amongst the prisoners so you'll be part of the action.
You'll be locked in prison (could it be for a previous crime against fashion, or that teenage haircut you never like to see photos of). Once the door slams shut behind you, you'll be given orange prison suits to wear and shown to your cells. Of course, you're still party girls at heart so thankfully you'll have smuggled in your own spirits. The recommended amount is 35cl for every two guests. You can bring any alcoholic drink you like and your fellow inmates will mix personalised cocktails for you and your group.
They say prison is no holiday camp, except for this one which is full of laughs and weird goings-on. This is unlike any bar you've seen before and a really memorable, slightly theatrical evening that will really make it a special night for all the hens.
If you're looking for something a bit different for your big weekend then this is definitely it. Smuggled spirits, crazy characters, bright orange prison jumpsuits, getting locked in a cell; it's just like a regular Friday night out!