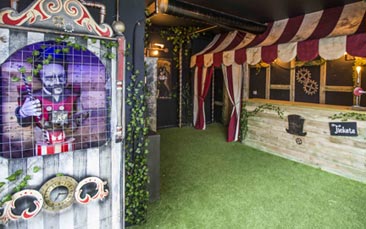 Some towns hold secrets...
Some towns welcome you in...
Some towns never let you go!
If you love murder mysteries, are intrigued by the unexplained and are looking for something totally unique then the Forgotten Carnival certainly delivers in a truly bizarre way. Nothing will seem the same again.
In a completely overlooked area of Bournemouth sits the old abandoned carnival, in amongst the debris of happier days sits MacGuffin's Machine, the creation of the carnival's mad owner.
Pay your penny... Take a breath... Enter the carnival.
There are two rooms allowing your group to split into two and race to compete your rooms. Inside the rooms you'll find a steam punk world of crazy machines, creepy riddles, live actors and lost souls. Your task is to put together all the pieces and solve the mystery.
This isn't simply a game, this is a dance with the dangerous mind of MacGuffin, he doesn't give up his secrets or his guests easily so you'll need keen minds and teamwork to save yourselves and escape.
Along the way you'll meet extraordinary characters played by live actors who may help or hinder your progress. The challenges, machines, and scenery are exceptional, as are the puzzles in what is without doubt one of the best escape room experiences in the UK.
Please note; There is limited availability during peak season so please book early to avoid disappointment.