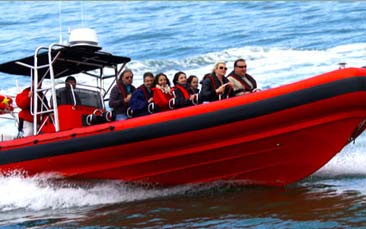 If your bride-to-be has always been the adventurous kind, then she's sure to love our Bournemouth hen party ribbing experience. This is a white-knuckle ride on a wave-splitting powerboat that'll take you along the Jurassic Coast at roughly "Waaaaarrrgghhhh!" miles an hour. It's a fabulous way to get the girls stuck into some wet and wild action where you're sure to see some stunning views that most Bournemouth visitors never get to see.
Once you've met your experienced skipper (conveniently in a quayside pub or cafe so you can grab a cuppa), you'll get dressed in life-jackets and any waterproofs before stepping about your amazing powerboat. These are to water what quad bikes are to land; they cut through the waves but can also be made to bounce and leap by experienced navigators.
Our Bournemouth hen party ribbing adventure will begin with a relaxed ride out of Poole Harbour, giving you a rare chance to see some of the Jurassic Coasts most beautiful sights before the heavy horsepower kicks in "Ok riders scream for speed" as the old showmen used to say.
Don't take in the view for too long though, as when you reach open water your (slightly mad) skipper will put the peddle to the metal and send you twisting and turning in some adrenalin pumping manoeuvres that'll result in plenty of laughs as well as a few shrieks as you're splashed by the ocean's spray!
For fabulous thrills on your special South Coast weekend, our high-speed ribbing experience is simply a must.