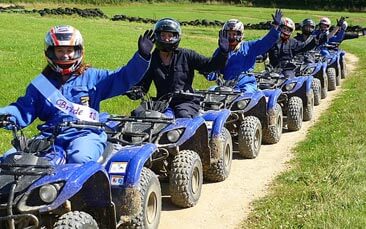 If the bride-to-be is known to have a competitive streak, passion for minis and a love of fast thrills then our Motorised Madness activity in Bournemouth is the perfect tonic after weeks of stressful wedding planning. Get away for a totally unique adventure packed day out on the track with some fast-paced thrills and spills including racing in suped-up minis. Though Bournemouth is famed for its water-based activities, it also packs a monumental punch in regards to motorsports too.

This unbelievable session is perfect for petrolheads and thrill seekers alike. This stunning 180-acre site set in the heart of the Dorset countryside is a superb place to spend all action day. There is also plenty of competition as all the girls will be fighting it out to take top spot on three types of high-speed racing machines. You will split into 3 groups and take it in turns to take on the following:
Quad biking - These quad bikes are 125cc monsters, perfect for tearing up the 1.5mile track, taking in splashes, slopes and mud holes.
Mini racing - Though these famous vehicles have a reputation for being cute and kitsch, the reality is that they are built with 1000cc of pure off road power... and therefore unsurprisingly come with full race harness and roll cage.
Hovercraft flying - This is bizarre, bonkers and brilliant fun. Hovercrafts are amphibious machines that can race on both land and water at high speeds, and are a challenging yet adrenaline fuelled ride!
If you fancy a bit of a break away from motorsports, you are able to swap one of the activities for either:
Cross Bow Shooting
Clay Shooting
Archery
Air Rifles