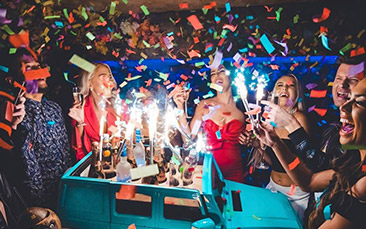 Whoop Whoop, it's officially hen do time! Kick the stressful wedding planning into touch for a while, it's time to let off some steam and party. There's no half measures (but you can get doubles), let's crank up that night out with the VIP Hen Party Package so you can celebrate with the bride-to-be in style.
You and your fellow hens will enjoy guest list entry and will be welcomed inside like the A-listers you are. You'll then be escorted to your very own reserved VIP booth where the party can well and truly start. You'll have a selection of drinks waiting for you and you can also enjoy waitress service, so you won't have to faff about trying to muscle your way through the crowds to the bar. Yep, no more spilling your drinks, getting ignored by bartenders or having people push in front of you, you'll have your beverages brought to you.
What's included:
1 bottle of Gordon's Pink Gin
1 bottle of Eristoff Vodka
1 bottle of Prosecco
10 Tequila Rose Shots
Mixers
Sparklers
We know some clubs and bars can get funny about allowing in big groups of hens (the bores!) so it's better to take the hassle out of proceedings and pre-book so you can all relax and focus on the important things on a hen do: drinks, cocktails and dancing!
With the VIP Hen Party Package, you'll be partying in one of Bournemouth's hottest clubs with your best gals, celebrating the bride-to-be's upcoming big day in style. Why have a regular night out when you can upgrade to a VIP Package? It is a hen do after all!
After your evening of partying, soothe those sore heads with a relaxing Pampering Day. Speak to a member of our friendly team today for more info about creating that utterly fab weekend away in Bournemouth.