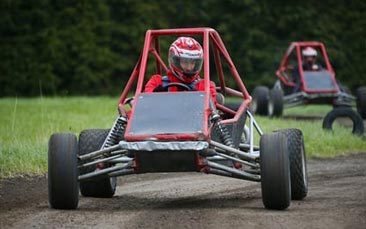 With our superb Bournemouth hen party challenge day it's not about the winning, it's about the taking part...
That's a lie. It's ALL about the winning! Be the best, drive faster, shoot quicker, laugh harder. This is a fabulously competitive day but most importantly it's hilarious fun.
1 - Zombie Survival Training
Assault Rifle (30 shots)
Archery
Axe Throwing
Crossbow
2 - Buggie Smugglers
Rage buggies
Clay Shooting (min 14 shots)
Blindfold 4x4 Driving
Human Table Football
3 - Rage Against the Machines
Rage Buggies
Assault Rifles (30 shots)
Crossbow
Axe Throwing
4 - Shot Aholics
Clay Pigeon Shooting
Axe Throwing
Archery
Blindfold 4x4 Driving
5 - Safari, So Goodie
Quad Bike Safari
Clay Shooting (min 14 shots)
Blindfold 4x4 Driving
Human Table Football
Rage Buggies
These bad boys are like the Tasmanian Devil of the motoring world. Designed to tackle any terrain, all the stresses of your daily commute will soon be forgotten as you race along at roughly "Waaaahhhaaayyyyy!" miles an hour!

Assault Rifles
Is the nearly-wed a big fan of action movies? Then now's her chance to get a little trigger happy. This is the only site in the UK where hen parties can have a go at firing semi-automatic weapons.

Clay Pigeon Shooting
Create your very own hen party big bang theory in this competitive and hugely addictive sport.

Blind 4x4 Driving
"Bloomin' back seat drivers!" This time however the girls in the back of the high powered 4x4 vehicle will be there to help as you'll be blindfolded and will rely on the girls' instructions to get you round the course in the quickest time possible.

Exploding Archery
Step aside Mr Hood, here come the hens. But this isn't just any archery competition and it's littered with exploding targets!

Quad Bikes
These high powered 4 wheeled bikes are just about the most fun you can have with a helmet on. Take to the track and see which of the hens wins the title.

Axe Throwing
Target practise with Native American tomahawks. It's perfect training for a zombie apocalypse... as long as you happen to have a few tomahawks handy when it all kicks off.

Clay Archery Shooting
Much like clay pigeon shooting, except you have to pluck the moving targets out of the air using a bow and arrow. Whoever hits the most will be the winner.

Crossbows
You'll need to be deadly accurate with this incredible weapon to beat the girls in this amazing game of "arrows".