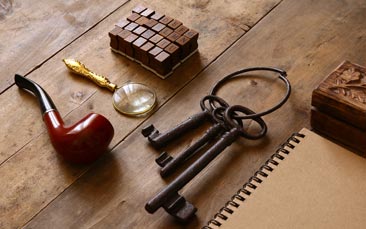 Our Bournemouth escape room is a mad live-action adventure where you will be fully immersed and it involves the whole hen party.

On arrival, you'll be briefed on the scenario and given a rough outline of what's in store. You'll then enter the game where the door will be locked shut for an hour. The only way out is using teamwork and brainpower. As you enter the room you'll find random objects and a series of puzzles and cryptic clues, you'll really need to think outside the box to get back outside the room.
There are two rooms to choose from:
Clockwork Orange
A room with more logical and mechanical puzzles works with water and air pressure.
Science Lab
We're not talking about a school science lab full of dodgy Bunsen burners and rickety old stools. This is an abandoned laboratory with a leaking Sodium Cyanide barrel. You have 60 minutes to find the antidote and survive without getting poisoned!
Now, you don't need to be a literal scientist to solve the puzzles, sometimes the answers lie in the most unlikely places. The challenge is for you to make the connections, solve the riddles and make good your escape.

Atmospheric, challenging, and brilliant fun, our Bournemouth escape room is a cryptic, live-action challenge that will test your brains, wits and nerve. Have you hens got what it takes to make it out... Alive?