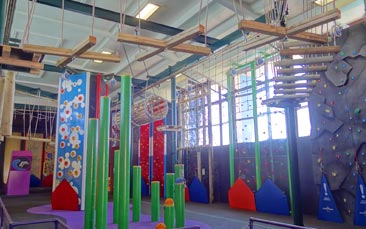 Nobody ever set out to organize an 'average' hen weekend, but we all know there are plenty of so-so hen weekends that we all get invited on. The key to making it memorable is daring to be different, finding new and exciting challenges that none of the girls will have tried before. And it really doesn't get much more memorable and daring than our spectacular Bournemouth Hen Party Aerial Assault Course.
It's like taking on an entire bucket list in one go and what's more the location is simply stunning!
There are 28 different challenges available and you and your fellow hens can tackle as many or as few as you want. Competitive hens can race each other up the speed climbing wall. Daredevils can attempt the Leap of Faith or slide down what is one of the UK's most incredible ziplines running from the end of Bournemouth pier, over the sea and onto the beach.
The activities available include;
Climbing wall
Speed climbing wall
Ice wall
Aerial obstacle course
Leap of faith
Pier zipline
Vertical slide
(prices may vary depending on the package you select)
This really is no average hen party day out and something that all the hens will be buzzing about for days to come. Hen parties really are all about making special memories for the bride-to-be and this is the perfect way to really start the weekend in fitting and audacious style.