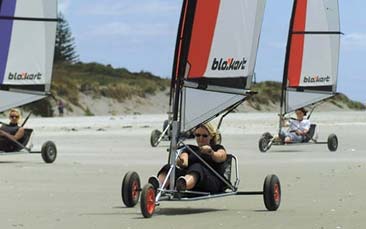 Do you fancy getting some yachting action on your hen weekend, but you know some of the girls aren't crazy about the idea of going sailing on open water with the slim possibilities of getting wet or, even worse, falling straight into the sea? Well don't worry; we've got the perfect activity for you.

Our Blokarting Hen Party activity is great for girls who want to try the yachting experience without getting their hair wet. Mad, bad and hilarious to know, it has all the exhilaration and speed of taking to the high seas in a yacht, but the fact that it's land-based makes it much easier for would-be sailors to master.

This really is superb, high-speed fun as these blokarts can sail along the beach at speeds of up to 40 kph, and when you're so close to the ground you're going to feel it! This is white knuckle action that'll put a huge grin on the bride-to-be's face!

All the blokarts have regular safety checks too, so you won't have to worry about flying off into a sand dune. As a unique and exciting new hen activity, they're only available in two top locations, so if you and the ladies fancy something a bit more exciting than sunbathing on the beach, we'd get ourselves down to Newquay or Amsterdam!

As a great day out, Blokarting ticks all the boxes to create a memorable adventure the girls are sure to love. It's something that you can almost guarantee the girls won't have tried before and it'll get everybody laughing out loud as the wind pulls you along the beach and you all get a ride that you'll never forget!