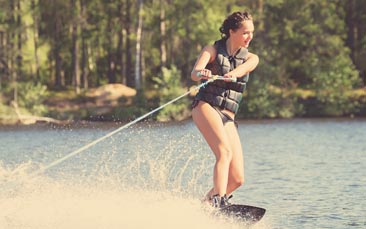 Wet and very, very wild, wakeboarding is one of the most extreme water sports around! It takes the best bits of top activities like surfing and waterskiing, and throws them together into one high octane, exhilarating session! If you and the girls want high speed and energy, wakeboarding is just the activity for you.

The board is similar to the one used in surfing, so if you've got any experience in that you've got an automatic head start - if not, be prepared for a few tumbles into the water. However, wakeboarding is a lot more energetic than surfing. Instead of waiting for waves to hit you, you'll be propelled at high speeds over the surface of the lake, much like a speedboat does in waterskiing.

High-Tech - Our Blackpool centre has evolved beyond using boats, instead, the cutting-edge site has a series of motorised ropes to get you up to those top speeds, flipping and jumping over the 7 floating obstacles and challenges in no time. Using the pulley system also gives the instructors far more control of your speed meaning the session can be totally tailored to each hen's progress to make sure all the girls get a real kick out on the water.

Adventurous hens who know that bingo simply won't do can get into full Lara Croft mode and get set for an adrenaline-soaked afternoon.