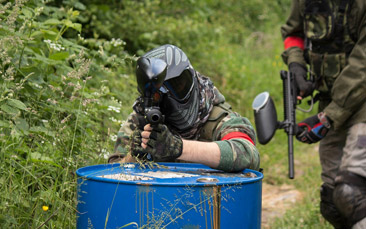 Forget cocktail making and afternoon tea, add some adrenaline fuelled fun to that hen weekend with the awesome Blackpool Paintball and Escape Room Package. Start the day with an all action paintball session before tackling one of the eerie escape rooms in this hugely entertaining, sometimes terrifyingly frantic hen activity.
Paintball:
Shoot off any wedding stresses and enjoy some great laughs with your best girls as you prepare to give each other a new Dulux style makeover. Fight to the finish as you show off your shooting skills in a series of games. This is totally different from your average 'pretty' hen party and perfect for girls who demand more! Utter may-hen!
The Kit:
Chemical warfare suit
Paintball mask
Semi-automatic gun
100 paintballs
Each hen will receive 100 paintballs to get started but if you have an itchy trigger finger you can buy more on the day. Lock and load ladies!
Escape Rooms:
After all that outdoors fun, it's time to take on one of the creepy escape rooms. Once the door locks behind you, you have just one hour to solve the clues, unravel the mystery and break out. Or be locked inside forever!
The rooms:
1) Detonation: You're a crack team of detectives on the case of notorious criminal Danny Badd who has been on the run for 7 years. You've been given a lead on his whereabouts, but be careful, he has a bad habit of blowing up anyone who tries to catch him.
2) Quarantined: With the threat of radioactive leaks rising due to the increase in use of nuclear power, the government are attempting to find cures to radiation poising within humans. Suddenly you regain consciousness and find yourself quarantined in what appears to be a testing facility. Then you hear the screams…
3) The Experiments: A doctor, dismissed due to her unorthodox practices has obtained a secluded allotment to continue her work. Under the cunning guise of a friendly 'Escape Room' she tricks test subjects into entering her chambers to undergo her experiments. But that couldn't be this escape room… Could it?