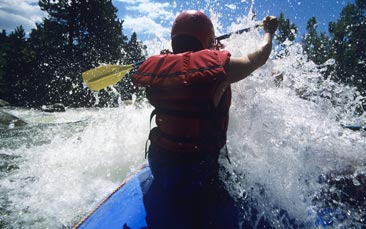 You and the girls will be hitting the water on something that takes balance, coordination and a whole lot of laughing. Our Blackpool hen party kayaking is perfect for hens looking for a totally new and unique activity.
Man(hen)kind has been paddling small waterborne craft for millennia, it's one of those basic skills that really is rooted in every one of us, something we can always do no matter where we are, like starting a fire, foraging for food, texting when drunk, it's just something we always do.
And this is a fantastic place to do it. There's a team of really friendly instructors to show you how it's done and give all your team special coaching. You'll soon be gliding over the water like, well, a group of slightly hungover hens? But we jest, kayaking is actually really easy to pick up for those that haven't done it before and it is incredibly addictive (seriously, you'll soon be looking at rivers back home and buying your own canoe. It's also fantastic exercise and uses lots of core muscles, a great little workout without breaking into too much of a sweat.
As well as the friendly team of instructors there is a handy cafe and bar you can enjoy after your session. The weather is often perfect during the summer months but at other times we recommend hiring wetsuits (just £3 each).