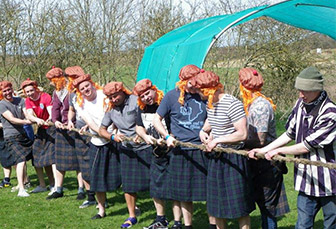 You don't have to go all the way up to the Scottish Highlands and expose yourselves to the cold or risk being attacked by a wild haggis to enjoy some Highland hijinks.
This fantastic Highland Games really is every bit as bonkers and brilliant as it sounds. If the hens are looking for something hugely memorable, totally different and packed full of laughs then this is it. The madness begins when you arrive and all the hens will be given a hat (with attached funny wig) and kilt so you'll all look and feel the part. It's then time to get your kilts and game faces on. You should also get warmed up (we don't want the bride-to-be pulling a hammy).
If you're serious sports fans you'll be sadly disappointed, there's very little seriousness about these games. And to be honest you don't even need to be that good at sport to have a go, you just need to be good at, well, having a go. Hens that are prepared to throw themselves into things and just have fun will prove to be the toughest competitors. Yes, we do know just how competitive some of you hens can be (you know who you are!!).
There are a number of different, equally silly events to have a go at:
Tug of War
Welly Wanging
Farmer's Dash
Tossing the Caber
Tyre Flipping
Putting the Stone
and more!
You don't need to be an expert in Highland games or strong woman events ("I've never tossed a caber in my life!"). In fact, the less you know the better! What you do need to be prepared for is having fun and throwing yourselves in whole-heartedly. Because this is daft and we're not going to dress it up any other way (except maybe in a kilt…). There's not a great degree of sophistication, just good old fashioned bonkers hen-demonium you'll all love!