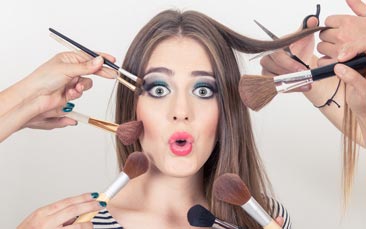 Of course, the bride-to-be wants to capture every last part of her big day and that includes her special hen weekend in Birmingham, with all her best friends in the world. This fantastic makeover and photoshoot leave all the hens feeling good and looking fabulous, plus a keepsake for the bride for years to come.
The session will start with a MAC makeover from experienced makeup artists. As well as giving you all a totally glam look, the artists will be able to give each of you personal tips and pointers and your skin types and the correct products for your type. We recommend you discuss the mood you want to create in your photos so all the girls bring the 2 corresponding outfits to wear for the shoot; vintage, glam, 40's Hollywood, the choice is yours.
After the makeover, it's onto the hair, a dry hairstyle (no cutting) for each hen. Finally, a professional photographer will give the record the weekend in a series of amazing shots in groups and as individuals (depending on the group size).
You can then choose two photos to take away (included) and order any extra photos of individuals, pairs, groups (extra fees may apply). Of course, after our Birmingham hen party makeover and photoshoot, there's no point wasting all that hard work so take your new-look out on the town. Ask our team about restaurant bookings, guestlist club entry and our range of fantastic Birmingham nightlife options.