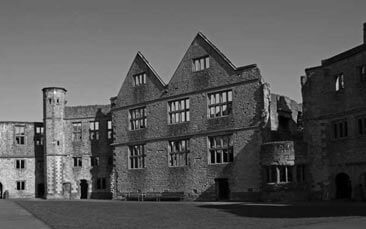 Let's face it girls, at some point we've all wanted to explore a haunted house, although when you're cautiously wending your way through the narrow stone corridors of our Birmingham haunted hen nights site, you could find yourselves wondering why you ever thought it'd be a good idea?!?

This location is seriously spooky, and you'll get to explore it in all its ghostly glory with our experienced paranormal investigators who'll conduct vigils and séances with you and the girls before inviting guests to take part in a series of experiments like table tipping, glass divination and the infamous Ouija board.

Really, it isn't a question of how thrilling this evening of phantasmal exploration is, it's how willing you are to take on the challenge! Is your gaggle of ghost hunting hens tough enough?

Enjoy a two-course supper before your spectral search begins;

Mains
Fish & Chips or Sweet potato & spinach curry with rice & poppadum (Vegetarian Option)

Dessert
Chocolate Profiteroles or Fruit Salad

Dudley Castle

This chilling site regularly gives goose-bumps to even the most seasoned ghost hunters, with some investigators swearing never to return. The ghost of the Grey Lady is often seen by staff and visitors alike as she takes a spectral stroll through the grounds of the castle. Perhaps you'll come into contact with the malevolent male spirit that plagues the castle halls, and don't be shocked to hear the pitter-patter of drums from the castle keep - that's just the ghost of a young Drummer boy, murdered by a single bullet in the civil war...

Built around 1071, and recorded in the Domesday book of 1086, this historic castle is steeped in history and ghoulish grandeur, with many bloody battles having been fought over these eerily quiet grounds. Plenty of lords and ladies have lived and died here, some of natural complications, and others of more guillotine-shaped causes...

With a long and troubled history of hauntings, Dudley Castle makes for the perfect Birmingham haunted hen night. With ghosts caught on camera and stones being thrown from the castle's dark corners, will your group of hens be next to record some ghoulish goings on?!?

If the sound of the grey lady gets your pulse racing, give us a call today and book your haunted hen night... if you dare!