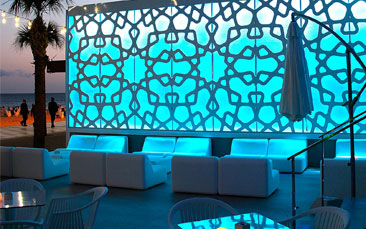 If you were to picture the perfect Benidorm night we're pretty sure it would look something like this. A stunning beach club with a state-of-the-art sound system, top DJs and your own reserved VIP area so you can enjoy yourselves like the sun-kissed party princesses you are for the weekend.
This fantastic club sits on the edge of the beach, you can see the clear blue water and hear the waves mixing with the sound of cool beats from the live DJs. As well as air-conditioned interiors with funky mood lighting and uber-cool minimalist white furniture, the same fresh vibe continues outside, where the mix of house, dance and chillout tunes set the tone for an amazing evening.
You'll have your own VIP area, roped off to give you exclusive use to enjoy your private party. You'll also have a 70cl bottle* of your choice of spirits, glasses, ice and mixers to serve yourselves. It's the perfect place to start what is sure to be an amazing night. The area will be yours for three hours and will give the bride-to-be a real special occasion to mark her special weekend.
The club is perfectly situated to watch the sunset, the waves lap the beach and the world drifts by in the cool of the early evening. Yes, it's as idyllic as it sounds, just add the beats and as the evening gets later, growing crowds of party people. You'll be right in the heart of all the action. More than that, you'll be VIPs right in the middle of everything and it's incredible nights like this that hen weekends were invented for.
* Eight guests per bottle, local spirits only.