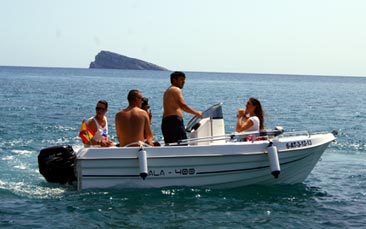 We can't even begin to tell you just how much fun this is!!!
You get to be the captains of your own boats. There's no guide, no sailor, no one else to do the steering, it's all down to you and the rest of the hens. The fun starts at the marina where you'll be assigned boats, five hens per vessel. Then you just need to learn the controls, which really couldn't be easier. Each boat has a single outboard engine which is operated with a throttle on a handle (like a motorbike). The engine either goes forwards or backwards, you just turn the handle to steer, it really couldn't be simpler. So point the front in the direction you want to go, and go!
You can head to nearby Peacock Island, explore the stunning Albir Bar or just cruise up and down, checking out the unbelievable boats around the marina (this is a millionaire's paradise after all). You'll soon be bobbing about pretty quickly as these boats are capable of 14 knots at 16 miles per hour, which feels even faster out on the water. With five hens in each boat, you can soon have your own regatta out, a sea-going party convoy, ready for good times and laughs. There is so much to explore and absolutely no rush. Life seems to slow down when you're out on the water, so we recommend going for the 4-hour option, giving all the hens a chance to steer and for you to really go and check out the areas away from the tourists.
You can take your own drinks but no glass and never throw plastic or rubbish overboard. Please help protect the waters. And remember to take plenty of waterproof sun cream as the sun does reflect off the water and can be pretty intense.
Please note: You'll need ID and a refundable €100 deposit.