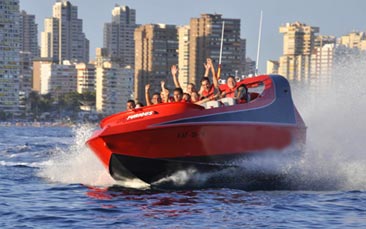 Get set for the ride of your lives! This amazing boat is simply incredible. Now admittedly we don't normally get excited about engines and all the oily stuff that makes things go but we're willing to make an exception for this amazing machine.
The 450 horsepower engines sucks up water underneath and shoots it out the back at incredible speed to force the boat (and you) through the water at roughly "Waaaaaaarrrggghhh!!!" miles an hour. As you get over the initial shock (and this really isn't for the faint-hearted) then the rest of the session is stunning.
The experienced pilot will have the boat flying over the water and perform a series of stunning flips, spins, fishtails, jumps and big air that is breath-taking. It's certainly a pretty extreme way to cure any hen weekend hangovers.
A fantastic way to get your day started and share a high-speed hen memory the bride-to-be won't forget for a very long time. This is fast and furious hen party action for girls who love to live life in the fast lane.