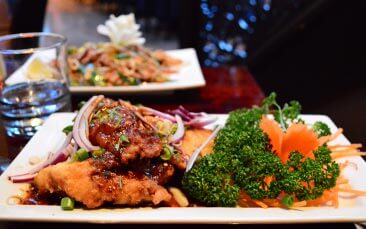 Eating together is perhaps the most sociable part of any hen party, it's that time during the weekend when all the girls can come together, sit round a table and really talk. It's also a time when you can all really eat, especially at our fantastic Bath Thai hen party restaurant.
The focus is on amazing flavours and being social, so you'll sit down to a wonderful Thai tapas dinner. Especially good for hens that have never tried Thai food before, you can order a range of dishes allowing everyone to sample the wonderful spices and flavours of authentic Thai cooking. Thai tapas is a much more sociable way to eat and offers you much more variety than a usual standard dining menu. No more food envy, if you like what someone else is eating, you can have that too!
If you're a little unsure of the simply huge range of dishes available then the fantastically friendly and helpful staff will be on hand to help you find the perfect dishes to tuck into from the expensive and truly rustic Thai menu.
The dishes on offer really are superb, the chefs have simply taken the very best dishes and made them "tapas-size" so you can share them while talking about the day's events, the bride-to-be's plans and of course the big night ahead.
As well as the wonderful staff, the intimate, candlelit setting really sets the tone for a great night out and the restaurant is just a hop skip and a springroll from Bath's best bars and clubs.