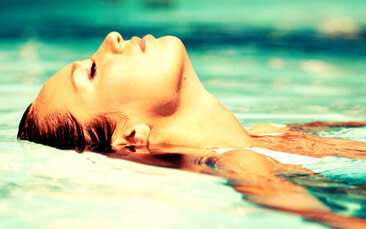 For a real feeling of hen exclusivity, this luxury experience really is a class apart. You can enjoy private use of your own Bath spa at the beautiful Bath Cross. This historic and ancient spa city was founded partly thanks to the rejuvenating powers of its world-famous waters.

This really is a wonderful hen party activity, completely separate from the public spas, this exclusive space will be entirely yours to sit back, relax and take it easy in fabulous surroundings. The intimate open-air thermal bath comes complete with its own changing rooms. After weeks of often stressful wedding party planning this could be exactly what the nearly-wed needs, the therapeutic waters are also ideal for hens looking to enjoy a little downtime away from the crowds.

The package which includes the use of towels, robes & slippers, is hugely popular with our hen parties so we would advise hen groups to book as early as possible to avoid disappointment.

A champagne tea is also available as an optional extra.
Bath Spa QI - A History of the 'Healing Waters'
8,000 BC - First traces of human activity in the area. Probably a bit too hot and arid for a spa back then, but stone age hens would have got a lovely tan.
863 BC - Legend has it that Prince Bladud was cured of Leprosy in the areas muddy waters and founded the early stages of the city of 'Bath'.
AD 43 - The Romans developed the city which they called 'Aquae Sulis'. It was set away from the military garrison as somewhere for locals to chill in the baths and probably have a cheeky cocktail or two.
AD 70 - A temple was built near the site of the current Bath Cross, which points towards the area being used a place of healing.
1088 - Bishop John bought all the town's royal property from the king and redeveloped the city.
1138 - Rich folk from across Briton are known to have travelled to Bath spa 'to wash away their infirmities in the healing waters.' They probably imbibed a cocktail or two as well.
1574 - Europe's elite and the various royal houses start visiting the spa.
1688 - James II's wife gave birth to little Prince James 9 months after healing in the waters of Bath Cross (don't say we didn't warn you!). As she was preggers, probably no cocktails.
1900 - Bath water is bottled and sold as a cure for many ailments.
1948 - Bath water cure treatments were prescribed on the NHS.
1970's - The baths were actually closed during this time, however, due to the demand of tourists the spas were soon reopened once again but the buildings and pools had lost some of their lustre.
2006 - The baths were finally fully restored and hen parties once again joined the list of eager visitors.
2015 - GoHen.com created the amazing Private Spa Hire experience for hens to enjoy exclusive use of the stunning Bath Cross and feel the healing waters for themselves. And this time, the new visitors will most likely find time for a cocktail or two.