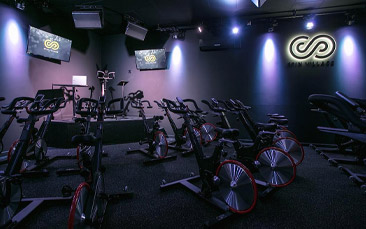 Get ready for an exhilarating morning of exercise as you and the girls gear up for those fab hen celebrations in style with your very own Bath Hen Party Premium Spin Class. Perfect for health-conscious hens and a great pre-wedding, stress-busting activity the bride-to-be will love. "On your marks, get set, SPIN!"
On arrival, you can make use of the high-end changing facilities and then you'll join your instructor and get spinning. Each class takes place in a soundproofed studio with state-of-the-art bikes, specialist cycling shoes and an amazing sound system. The session is rhythm-based so you and the girls will ride to the beat of the music.

For the competitive hens amongst you (you know who you are!), you can take each other on and see who can ride the furthest as your performance is tracked on the leaderboard. For those of you with a lingering hangover, you can choose to not be on the board if you feel the fresher feeling girls may show you up!
After you've finished you can utilise their lush shower facilities, which include luxury products, Dyson hairdryers and GHD straighteners so you can change and head out for your next fab hen activity without having to trudge back to the accommodation. Once changed, as a treat, you can all get together for a well-deserved glass of prosecco to celebrate your healthy morning and toast the bride-to-be! (Shame it's not a G&T because we had an amazing 'Spin and Tonic' pun lined up!)
Once you've conquered the spin class and you're ready and raring for the rest of the hen celebrations why not continue the health kick and refuel with a Healthy Hen Feast? Although, after all that hard work, a spot of Cocktail Making may go down more of a treat with the girls. Speak to a member of our friendly team today for more info about creating that amazing hen weekend away in Bath.