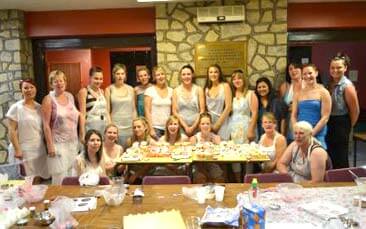 Hands up who doesn't love cake?!? If you're anything like us here at GoHen HQ you'll be reaching for the skies with both hands and yelling "Me me me!" just in the hope that someone will deliver cupcakes into your outstretched palms (it's part of our morning ritual but never seems to work). But with our fabulous Bath hen party cupcake decorating workshop not only will you get some fabulous cakes for munching, you'll also get to decorate them too.
Sugarpaste, buttercream, glace icing, chocolate buttons, piped swirls, edible bows... these fabulously tasty sounding treats are just part of what will make up your armoury as cupcake decorating divas. "Yeah, move over Paul Hollywood, it's time for some hen power!"
As well as our expert on hand to show you all how it's done, you'll have an arsenal of decorating tools at your disposal so you can truly express your inner cake-loving goddess. If you have the icing styling you can create a cool funky, urban Bansksy-esque cupcake, followed by the flowers and ruffles of a Laurence Llewelyn-Bowen bun, then maybe get a bit trendy and go for something that Stella McCartney might create near the cooker. The choice is all down to your own individual ideas and skills.
Bath hen party cupcake decorating class really is all about taste. And by that we mean we fully expect you to lick the spoon after you've finished using it, surely it's the law?!? (Although please then put it in the washing up not back in the bowl, that's just wrong!).
We have a choice of Bath hen party cupcake classes;
Classic Cupcake Hen Party - 4 cupcakes
Vintage Cupcake hen Party - 4 cupcakes
You can upgrade to make 6 cupcakes in a 2-hour session if required - please ask our team for more details.