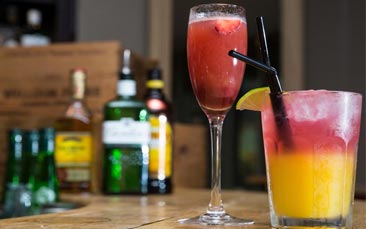 If you think you know your mojitos from your mocktails and have a fine grasp of exactly how much booze is required to pep up any cocktail then now's a chance to put your knowledge to the test.

You and your drinking partners in crime will be transformed into a tight-knit, cocktail flaring team. Under the expert of a professional mixologist, you'll learn everything you could ever want to know so that you'll be able to mix your own delicious cocktails at your next BBQ or party.

Once you've got the knack you'll be let loose on all the equipment and ingredients to start mixing your own cocktails in a great team "mix-off". The pro will judge your finished cocktails but of course, you will need to be tasting as you work, purely to make sure you've got the balance correct, not because you just want to keep guzzling cocktails.

But we wouldn't want you cocktail mixing on an empty stomach, so there'll be a selection of cupcakes and salmon blinis to keep you all going.

You'll get to make 3 stunning cocktails from the list below.

Cocktail List:
Long Island Iced Tea - Cointreau, Tequila, Gordon's Gin, Smirnoff Vodka, Bacardi, Sours and a splash of Coca Cola.
Cosmopolitan - Absolute Citron, Cointreau, Lemon and Cranberry Juice with the zest of orange.
Mojito - Fresh Lime, Mint, Bacardi Rum, sugar syrup and crushed ice.
Peach Bellini - Ice chilled Prosecco with fresh peach puree.
Elderflower & Cucumber Collins - Tanqueray Gin, lemon, elderflower cordial, cucumber and sugar syrup.
Dark & Stormy - Mount Gay Rum & Cointreau with fresh lime and ginger beer.