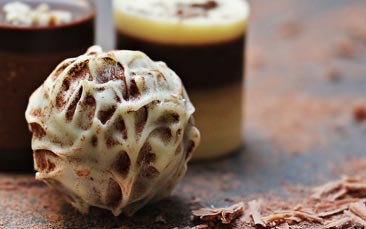 Well slap my truffles and call me Willimena Wonka if this isn't the most fun you've ever had in an apron! Who doesn't love a day spent focusing on chocolate? All non-believers please turn away now, as for the rest of us, our wonderful Bath hen party chocolate making workshop really is a pleasure paradise where we can all indulge in our favourite passion (no point calling it a guilty secret, why would anyone feel guilty about chocolate?!?).

The session will start with you trying 10 very different chocolates created by some of the world's finest chocolatiers. You'll learn just what it is that makes them so good and a little of the artistry that goes into making the world's favourite sweet treat.

Under the guidance of our choccy expert, you'll learn some of the skills of the master chocolate craftsmen and exactly how you can make your own chocolates at home. It really is easier than you think and a great idea for Christmas presents or wedding favours.

And these aren't just any chocolates... These are rich, indulgent truffles. You'll be shown how to pipe, cut, shape, roll, and cool some melt in the mouth truffles using basic ingredients that can found in any high street or supermarket. Once you're done, you can bag up your handmade chocolates and take them home with you. Of course, there will be casualties along the way, those poor truffles that didn't quite manage to make it off the cutting table and mystery vanished ("Iffs nost in my mouth, honsefst!").

Lactose - If any of the hens are lactose intolerant and want to attend the workshop it's no problem. We can provide a lactose-free mixture instead of cream, please let our team know when booking.

Nut Allergies - This class might not be suitable for nut allergy sufferers as nuts are used in a number of toppings.