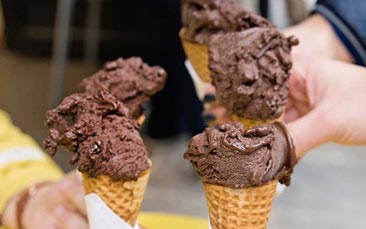 If, like the GoHen team, you and your fellow hens are just ever so slightly obsessed with all things food and drink related you'll love this fantastic trip around the beautiful city of Bath, sampling the finest independent food and drink makers.
Now when we say these artisan creators are the best of the best, that's no idle claim. GoHen are based right in the heart of beautiful Bath, so we have picked the finest suppliers for you to enjoy (hours of painstaking researching, eating and drinking the best cakes, breads, sweets, treats and more. You're welcome!).
There is also a competitive element as you'll be split into teams before you get to treat your taste buds. Once you have decided your teams, you'll then read the first clue and the race is on to get around all the venues and to the final challenge, cocktail making! And yes, you do get to drink what you make.
Selection of the types of treats can you enjoy include: *
Small box of 2 chocolate truffles per person
Loaf of fresh, flavoured, artisan bread to tear and share
Small portion of cake (various flavours) per person
2 handcrafted local cheese samples served on a cracker
Refillable tasting cup of a specially selected loose-leaf tea
3 bite-sized Asian-style accompaniments
3 vegetable mini-pakoras with dips per person
Small bag of freshly made, flavoured fudge per person
Cup or cone of gelato
*May vary due to seasonal variations.