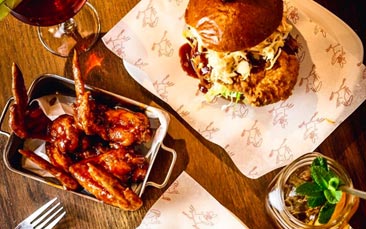 If we're all honest, group meals can be a bit of a pain in the hors d'oeuvres. Where should we go? Do they have enough veggie options? Janet's only eating salad. Will there be a table big enough for us all? Will they have a pudding big enough for me... Yadda, yadda, yadda...
But it really doesn't have to be that way.
Pre-booking your hen restaurant can remove all the hassle.
Your table will be ready for your group, whatever your size. You can see the menu in advance (normally about two weeks, once everything is confirmed) so everyone has plenty of chance to choose what they'd like.

Meals can be pre-ordered, so no wasting time staring at the menu but more time talking, laughing and sampling the cocktail menu (yes, it really is all night Happy Hour and this fab chicken joint has some exclusive, signature cocktails with their own moonshine). You can even pay in advance so no one will need to go all Rachel Riley with the bill.
It's a nice relaxed way to start a top night out.
Sample Menu (subject to seasonal change)
Starters
3 fried chicken tenders with dip
Mac and cheese (v)
Artichoke and spinach dip with tortilla chips (v)
Fried pickles with ranch dressing (v)
Mains
Chicken burger with French fries or green salad, BBQ sauce, coleslaw, salad and mayo
Chicken and waffles with smoked sweet gravy and maple syrup
Nashville hot sandwich (fried chicken, spicy hot oil, pickled cucumber, crispy onions, harissa mayo) with French fries or green salad
Black bean burger with fries or green salad and sriracha, jalapeno, garlic, coriander, cheddar or mayo sauces (v)
Grilled chicken, quinoa and mango salad
Desserts
Peanut butter cheesecake
Chocolate chip cookies and milk
Crack pie with clotted cream